Gold & Diamond Jewelry
The Most Popular Cartier Bracelets
Posted on February 9, 2020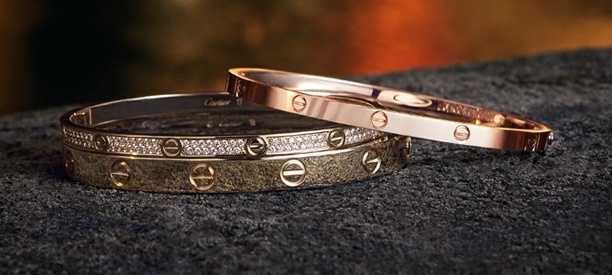 Iconic high jewelry brand Cartier is known for producing some of the most luxurious and opulent and haute jewelry. However, the iconic jeweler has created some of the most coveted everyday pieces that represent popular staples for every jewelry-wearer's collection, man or woman. Below, learn more about the three most popular bracelets by Cartier.
Love Bracelet
Created in 1969 by renowned Cartier designer Aldo Cipullo, the gorgeous Love bangle is studded with screws and locks elegantly around the wrist. While it was initially gold-plated, demand grew exponentially, and Cartier started to create them in solid gold, eventually introducing a diamond-studded version in 1979. Only to be opened by an accompanying screwdriver, the unique design serves as a symbol of strong and unbreakable love.
Juste un Clou Bracelet
Another iconic design by Cipullo is the nail bracelet, aptly named Juste un Clou, or "Just one Nail" in French. The Juste un Clou bracelet is the Love bracelet's younger and easier-to-remove sister and was inspired by the humble nail. Released in 1971, the bracelet reflects Cipullo's minimalist style and love for all things nuts, bolts and screws. The Juste un Clou has evolved over time, with the introduction of pavéd diamond styles, in addition thicker nail designs and a winding wrap model.
The Trinity Bracelet
Launched in 1924, Cartier's beloved Trinity ring inspired a collection of intertwined tri-gold pieces and has remained one of the most classic jewelry designs of all time. The coveted rolling band style is a symbol of the most important elements in a strong relationship. The three interlaced gold colors depict love, friendship and loyalty. The chic and elegant bangle pairs easily with simple daywear or with evening attire. Like the Juste un Clou bracelet, the Trinity bracelet comes in a variety of styles, from small cord bracelets that feature a trinity charm, to diamond-encrusted and extra-thin iterations.
These three highly coveted bracelets belong to Cartier collections that include matching rings, necklaces, cufflinks and earrings to complement each other. Each piece is classic and timeless, making them common and excellent gifts for birthdays, important milestones, weddings and holidays.
Jewelry-N-Loan specializes in fine jewelry from high-end brands like Cartier, Van Cleef & Arpels and Bulgari. Should you be interested in taking a loan against, or selling your precious gold and diamond jewelry, contact us today!