Featured Press
Jewelry-N-Loan Featured In Coast Magazine
Posted on July 1, 2013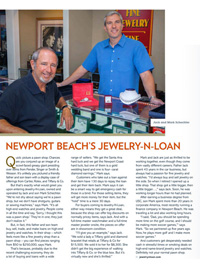 issue features an article about Jewelry-N-Loans' father/son owners Jack and Mark Schechter. It's a wonderful piece that details the difference between the image most people conjure up of a traditional pawn shop, and what they see when they walk into the friendly atmosphere of our shop in Orange County and view our high-end showroom quality watches and jewelry.
The article also gives a brief history of Jewelry-N-Loan, and how Jack and Mark came about opening shop and providing a valueable service to the community. It further profiles our process of buying, selling, trading and making collateral loans on luxury watches, jewelry, diamonds and gold, and how we provide our customers with a value that is very difficult to find elsewhere.
It's a nice write up in a really great magazine and we hope you will take the time to read it and come by the shop on Newport Blvd. in Costa Mesa, CA and see us sometime soon! You can find the article in the June issue of Coast Magazine, or read it online at www.coastmagazine.com or you can click on the image of the article to the left.
Summary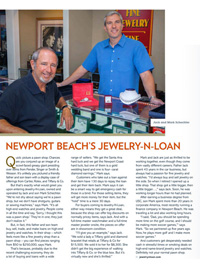 Article Name
Jewelry-N-Loan Featured In Coast Magazine
Description
 issue features an article about Jewelry-N-Loans' father/son owners Jack and Mark Schechter. It's a wonderful piece that details the difference between the image most people conjure up of a traditional pawn shop, and what they see when they walk into the friendly atmosphere of our shop in Orange County and view our high-end showroom quality watches and jewelry. The article also gives a brief history of Jewelry-N-Loan, and how Jack and Mark came about opening…
Author
Publisher Name
Publisher Logo