Featured Press
Jewelry-N-Loan Featured On Storage Wars
Posted on July 20, 2013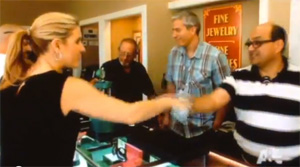 The Jewelry-N-Loan shop in Costa Mesa was featured on the season finale of A&E's Storage Wars which aired on July 2, 2013. In the episode entitled 'Battle of the Brows', the Storage Wars crew ventures into Jewelry-N-Loan to find out about a piece of Rolex watch making equipment that they found.
With the help of Mark and our full-time master watchmaker, Alfredo, they get to the bottom of the treasure they've found. It's a really fun episode, and great to see Jewelry-N-Loan and our gang of experts on the screen. You can watch the episode when it airs on A&E, or find it on their website.
You can also view a clip of the Jewelry-N-Loan part of the episode on our videos page.
Summary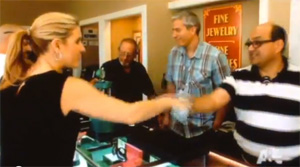 Article Name
Jewelry-N-Loan Featured On Storage Wars
Description
The Jewelry-N-Loan shop in Costa Mesa was featured on the season finale of A&E's Storage Wars which aired on July 2, 2013. In the episode entitled 'Battle of the Brows', the Storage Wars crew ventures into Jewelry-N-Loan to find out about a piece of Rolex watch making equipment that they found. With the help of Mark and our full-time master watchmaker, Alfredo, they get to the bottom of the treasure they've found. It's a really fun episode, and…
Author
Publisher Name
Publisher Logo