Luxury Watches
Will The Apple Watch Replace The Traditional Luxury Watch?
Posted on May 27, 2015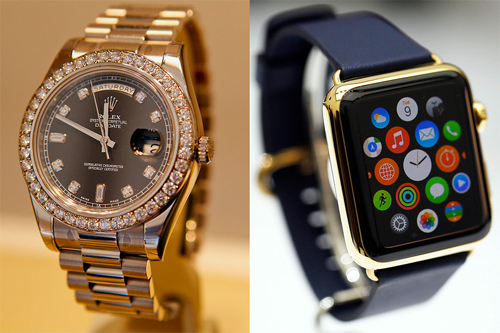 With the release of the Apple watch, and all the hype that goes with it, the question can now be proposed "Will the Apple Watch replace the traditional wrist watch?" Most people would scoff at that question, being that wrist watches have stood the test of time (no pun intended) for centuries. But there is something to be said about technology and how it has the power to replace everyday items and actions like we never thought they would. Less than 10 years ago, a digital camera was all the rage…until camera phones took over the market. With the advancement and perfection of that technology digital camera sales have dropped dramatically. In fact the word 'camera phone' has now just become 'phone', because no phone comes without a camera.
So…if a camera can be replaced, how about a watch? One could argue that a watch is a style accessory. And that's very true, seeing that watches nowadays (although functional) are more of a fashion statement than a useful tool (again cell phones a culprit here as they all have clocks). But with the Apple Watch, Apple has gone as far as to create luxury version of the watch ranging from 10,000 to 17,000 dollars in gold, platinum and other high end options. And custom shops have already began producing diamond encrusted bezels, and leather straps for Apple watches. Add all of the apps and functions of a smartphone and that's a pretty gorgeous piece of technology.
That said, all of the technology in the world can never replace craftsmanship, style and true beauty. The Apple watch may very well begin an entirely new phase of connectivity and spark another technology boom, but that will not bring an end to the traditional wrist watch…especially the luxury watch. Names like Rolex, Patek Phillipe, Panera, Brietling, Omega and more will continue to produce world-class, works of art. Pre-owned and vintage luxury watches will still be coveted by collectors and the fashion forward public.
While Jewelry-N-Loan doesn't deal in the Apple Watch or other tech devices, we do recognize the changes in trends and styles that occur frequently in collecting and purchasing luxury watches.  Jewelry-N-Loan in Costa Mesa has decades of experience in the buying, selling and making loans on fine luxury watches, diamonds, jewelry and gold or scrap gold.  We can offer you one of the fairest and best deals in the business.  If you're in or near Orange County, make sure to stop by Jewelry-N-Loan or contact our shop for a free consultation.
Summary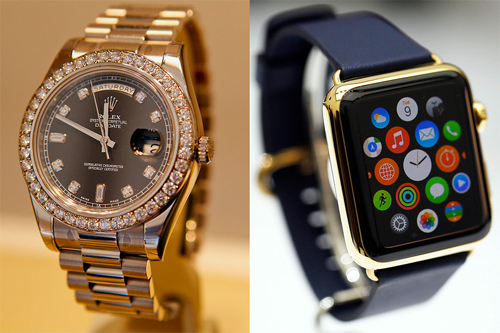 Article Name
Will The Apple Watch Replace The Traditional Luxury Watch?
Description
With the release of the Apple watch, and all the hype that goes with it, the question can now be proposed "Will the Apple Watch replace the traditional wrist watch?" Most people would scoff at that question, being that wrist watches have stood the test of time (no pun intended) for centuries. But there is something to be said about technology and how it has the power to replace everyday items and actions like we…
Author
Publisher Name
Publisher Logo