Collateral Loan,Luxury Watches,Pawn Loan
Anatomy of a Watch
Posted on May 14, 2019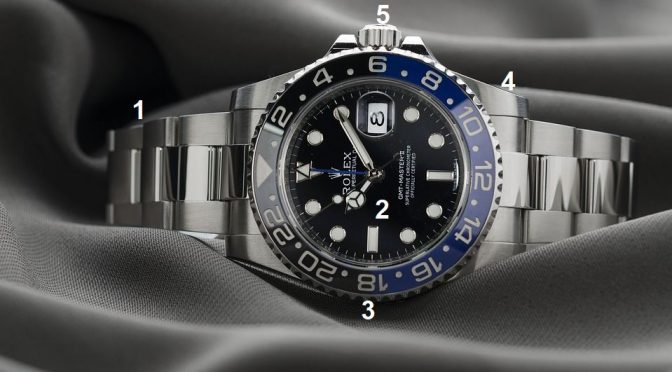 The jargon of the world of timepieces can seem daunting, even though many of us wear and use a watch every day! This guide is a primer to watch anatomy:
We'll start with the watch band (1) that attaches the timepiece to your wrist. It is generally called a bracelet if made of metal, and a strap if made of a flexible material, such as leather or rubber. A watch bracelet is secured by a clasp, while many straps are secured by buckles.
The face (2) of the watch is referred to as the dial and it usually features hands and markers. The glow-in-the-dark or luminescent material on markers and hands is called lume. If the watch features calendar functions such as the day or date, they are usually displayed in apertures, which are windows in the dial. If the dial has extra, smaller dials, like one that shows just the seconds, they are often referred to as subdials or subsidiary dials.
The dial is covered by a transparent piece of mineral glass or manmade sapphire called the crystal. The crystal is surrounded by an outer edge called the bezel (3), which rotates on some sports watches. The bezel can display additional information or be embellished with precious gemstones.
The case of the watch, which houses the movement that drives the watch, is often connected to the bracelet by lugs (4). Information about the watch's material, model, or serial number is often engraved or stamped on the back of the lugs, depending on the brand of watch. The case back is often made of metal, but can feature an additional crystal that reveals the movement.
In mechanical watches the movement is wound using the crown (5). In most watches—whether mechanical, automatic, or quartz—the hands and other dial displays are adjusted using the crown. The crown frequently bears a logo of the watch brand.
If you are interested in offering a watch in your collection to secure a collateral loan, don't hesitate to reach out to the team at Jewelry-N-Loan of Costa Mesa. The highly trained and professional staff will walk you through every step of the process to get you the confidential collateral loan you need. Get in touch with us today at 949-645-0488 or [email protected].
Summary
Article Name
Description
Learn the different parts of a luxury watch. Crystal, bezel, lugs and crown. What are those? After reading this article you will be an expert in the watch anatomy.
Author